Use:
XG11 single color drinking straw making machine use polypropylene (PP) as raw materials, with the use of masterbatches, after melting, extrusion, shaping, cooling, pulling, cutting, then produce colorless, one color drink straws. It is composed of main body, tooling, cooling system, cutting machine, with a wide applications such as cotton swab, lollipop sticks, coffee stirrers, small pipes, and ball pen refills etc.

Characteristics:
1.Wide application: Single color drinking straws, lollipop stick, pen tube, cotton stick,  medical tube, all kinds of toys tube, etc. 
2.Easy to operate. One operator is enough to run the whole line 
3.Cut form: Diversified cut-end: 90° /90° , 90° /45° , 90° /60° , 45° /45° , 60° /60° 
4.With stable output and wide range of color options. 
Quality:
The gears and bearings are precision ground and hardened to ensure smooth  and quiet operations.
The screw and barrel is manufactured from Aluminum Chromolybdenum alloy steel and is stress relieved.
The die undergoes nitride hardening treatment for a long service time.
The water tank and the surface of cutting machine are made of 304 stainless steel.
The main extruder's screw designed to suit plastic material specified. Tube die head assembly manufactured in tool steel.
Main Parameters:
Driving motor
Main motor:7.5kw frequency conversion
Traction and cutting device :0.75kwX2
Production Capacity
Capacity:20 to 25kg/h
Drinking straws:60000pcs/h
Cotton swab sticks:50,000 pcs/h
Ballpen refills:3,000 pcs/h
Raw material:
PP,PE
Straw specifications
Diameter
2-13mm
Length tolerance
±0.1-1mm
Cutting and traction device
control by double frequency conversion
0.75kw×2
Main Screw 
Main Screw: diameter 50 mm Length/Diameter: 28/1                       
Machine size
2.2m*1m*1.3m
Complete line size
10m*1m*1.7m
Machine weight
400kg
Complete line weight
1000kg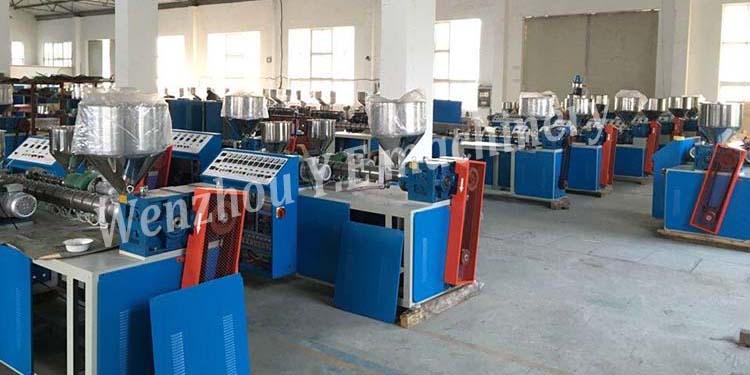 straw making machine 
[contact-form-7 404 "Not Found"]